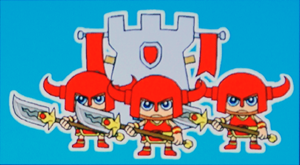 Invasion is a game mode in Fat Princess. It involves capturing and holding Outposts. This can be done by standing next to them, and accomplished more quickly with multiple players. The team who reduces the enemy's counter to zero wins.
Description
Edit
Capture the Outposts throughout the environment to control the territory. Control more than 50% of territories to reduce the enemy's morale. The first team to reduce the enemy's morale to zero will be hailed the champion.
 Station rangers at the top of central outposts to help retain them.
Ad blocker interference detected!
Wikia is a free-to-use site that makes money from advertising. We have a modified experience for viewers using ad blockers

Wikia is not accessible if you've made further modifications. Remove the custom ad blocker rule(s) and the page will load as expected.