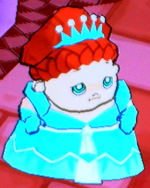 Princess Muffintop
Voice by Tara Strong
Princess Muffintop is the princess of the Blue Kingdom. Unlike Princess Plump, her role in the story is relatively minor. The Red King wanted his daughter to marry Prince Albert to break her curse, so he kidnapped Princess Muffintop to avoid having him choose her instead. Thus her father, the Blue King had Princess Plump kidnapped and sparked a war to get the princesses back.
==Gallery==
Ad blocker interference detected!
Wikia is a free-to-use site that makes money from advertising. We have a modified experience for viewers using ad blockers

Wikia is not accessible if you've made further modifications. Remove the custom ad blocker rule(s) and the page will load as expected.